How can Managed Print Services (MPS) benefit my business?
For the majority of businesses, printing is an essential function. However, what most businesses probably don't know is that the approach you take towards printing can heavily impact the overall costs, productivity levels, ROI, workflow and much more within your organisation.
What is Managed Print Services?
Managed Print Services is the active management and optimisation of document output devices and related business processes.  Sounds technical right? Don't worry, that's where a print business partner can help to guide you through the options available.
In summary, MPS solutions are designed to streamline your print and post processes as well as reduce downtime so that your business can work more effectively.
What is the process involved?
Our handy diagram below illustrates how the MPS process works and ultimately, how each stage of the process can benefit your business: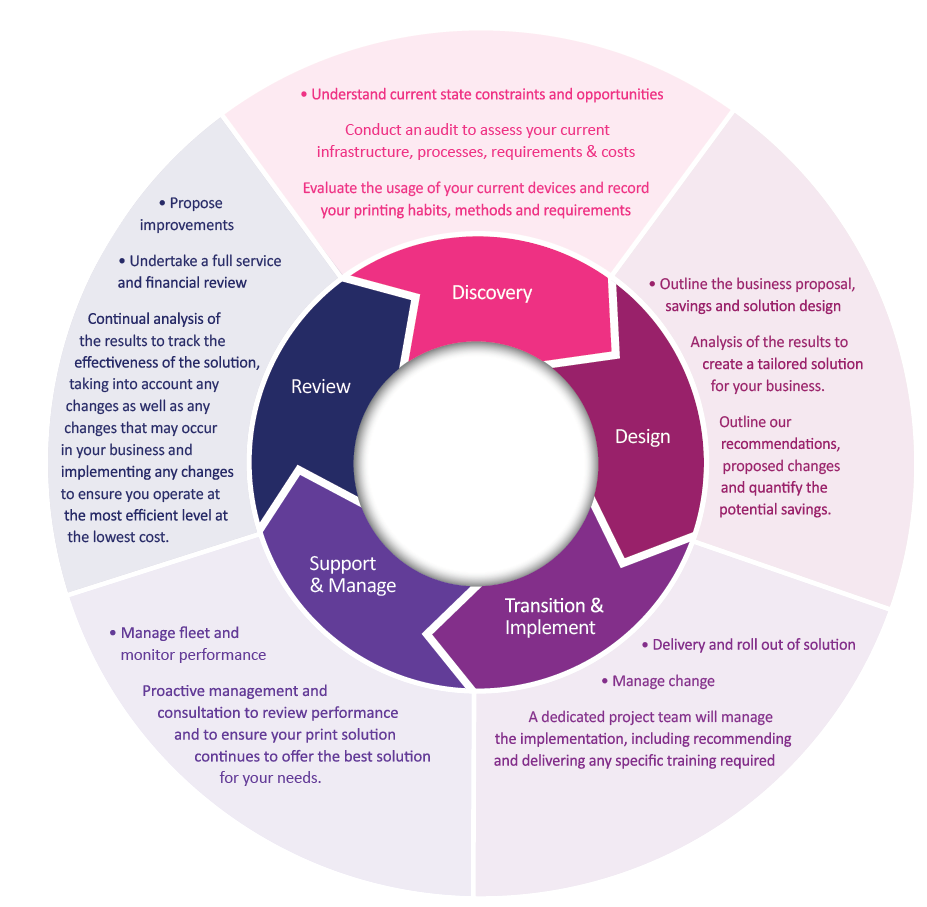 How will MPS benefit my business?
Your multi-function printer may already be able to print, copy, scan and fax but adding Document Management Solutions will not only multiply your productivity but could save you as much as 30% on your total document costs. But not only that, having an effective print solution in place can simplify and automate your everyday tasks, improve document security, enable new revenue and so much more.
Most multi-function printers also require unique cartridges which are more costly and have inventory tracking challenges. Eliminating these traditional printer frustrations will not only reduce time, but it will help you meet your environmental goals.
Analyse your printing needs
Is your IT Department spending time analysing your printer fleet?  This probably isn't the best use of their time and FREE audits are available to help you with this.
MPS providers are experts in this field and can conduct a fully comprehensive evaluation of your print environment, document infrastructure and workflows to develop a road map for your future ideal state, including cost savings and projections. Providers such as Quills Limpio will also support you through the transition process and securely connect everything to your IT environment.
An easy to view dashboard can provide a snapshot of historical data, current and new status events. Your print partner would monitor your printer fleet for you, notifying you of any maintenance issues and email you when ink cartridges are running low. Automatic discovery of network printers (no manual entry required) and this monitoring can be applied onto secure networks.
With legislation such as GDPR in full swing, it's important not to overlook your printers and printer network within the office as this is where a huge amount of personal data is produced. Your MPS partner will walk you through how to ensure print jobs are secure.  Print jobs can be activated by card or by a unique pin number, can be produced with a file name, date, time and watermarks meaning a document is never lost and can be traced back to the author. Documents and personal data are kept secure and GDPR safe as they aren't printed until you've entered your unique password.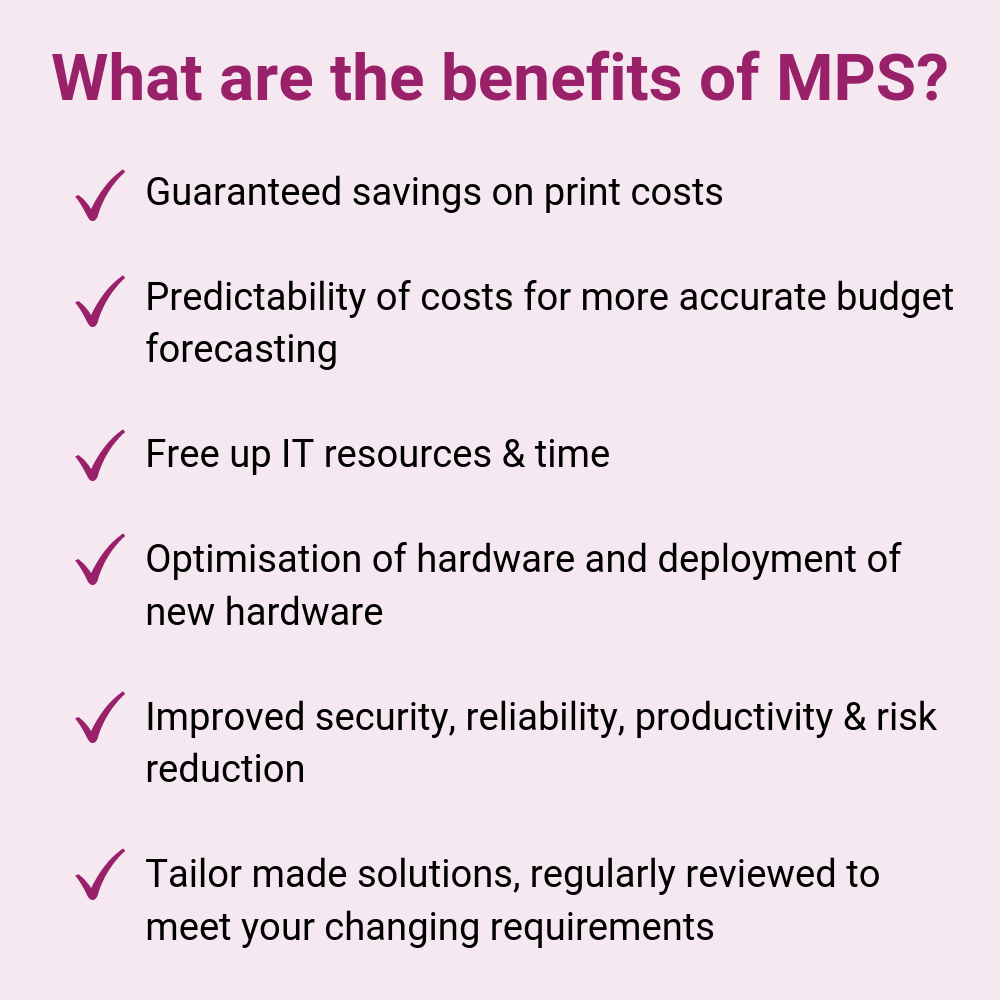 Have you considered Eco Printing?
However big or small your printing needs may be, eco printing can take the headache out of managing your printing as well as eliminate traditional printer frustrations. It involves Replaceable Ink Pack System (RIPS) technology which uses super-high-yield ink supply units for printing up to 84,000 pages between ink charges. The benefits of this include:
96% less energy than laser printers
94% less waste than laser printers
92% less Co2 emissions than laser printers
MPS can come in a variety of forms and can be completely tailored to suit your businesses requirements. Quills Limpio has flexibility at the heart of its service and are not tied to one manufacturer meaning that we can work with you and make unbiased recommendations to provide the best results and return on investment for your business. With flexibility at the heart of our service, we are able to tailor packages to your exact requirements for your photocopier, multi-functional devices and/or franking machines, ultimately helping you to achieve your GDPR compliant business objectives.
Why not take a look at our new 2019 brochure or get in touch for more information?
https://www.quillsuk.co.uk/wp-content/uploads/2019/05/mps-new-image-for-blog.jpg
651
932
Quills UK
https://www.quillsuk.co.uk/wp-content/uploads/2022/01/White-Reverse-350.png
Quills UK
2019-05-08 13:47:23
2019-06-24 11:50:41
How can Managed Print Services (MPS) benefit my business?