Top tips for staying cool in the office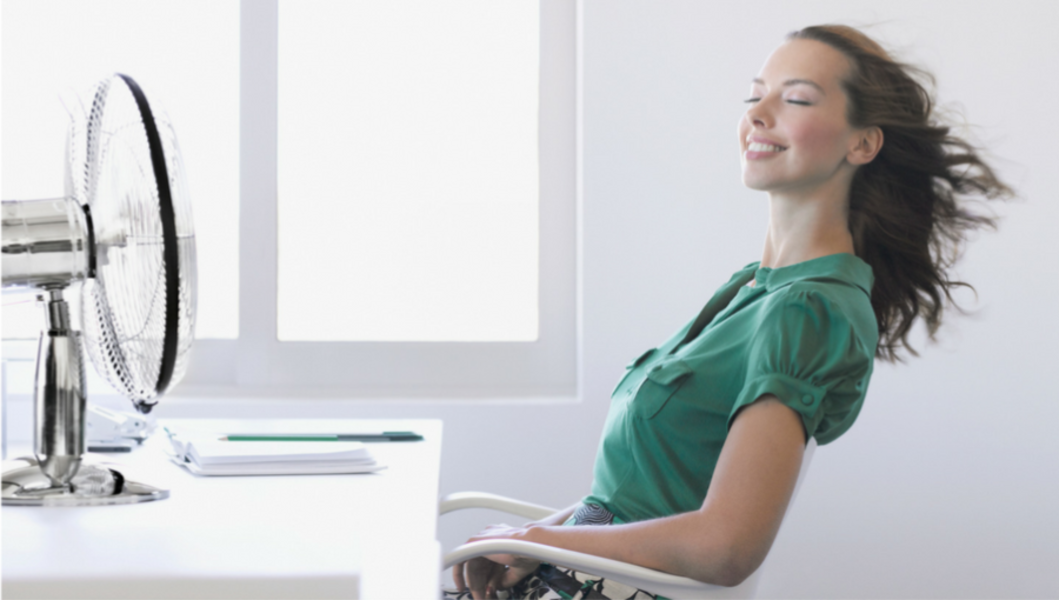 Summer has officially started and the MET office has already announced some scorching hot days ahead this June. So why not beat the heat and be prepared with these top tips to help you stay cool in the office…
Keep the blinds down
It may sound obvious but lower the blinds in the office before the sun rises as the piercing sun will only heat up the office. Having the sunlight shining through the office all day will cause what is known as the 'Greenhouse Effect'.
Workwear
Wardrobe choices are essential when it's a hot summer's day. Whilst some outfit choices may be restricted due to the office dress code, carefully consider what you're going to wear and opt for clothes which are made of a looser material e.g. cotton to help you stay comfortable throughout the day as well as lighter colours which will reflect the suns radiation. Thick and heavy clothes such as woolly skirts or fully lined suits are a definite no-no!
Stay hydrated
This sounds like an obvious one, but many people don't realise that you can quickly dehydrate even if you're just sitting at a desk all day. It's essential to drink plenty of water, approximately around 2 litres minimum a day. Also, keep your water in the fridge or freezer so that it stays nice and cool for when you come to drink it.
Should I drink hot drinks?
Yes! It's a common myth that drinking caffeine dehydrates you, so don't worry, you can still enjoy that morning cup of tea or coffee to help get your day started.
Apply water on your wrists
You may look slightly bonkers carrying out this tip, but if you're in the office kitchen or bathroom, it's most certainly worth it. Run cool water over your wrists every couple of hours for approximately 5 seconds. This will help cool down the main veins running through them as well as your pulse points and will ultimately help to lower your blood flow temperature. Try it!
Invest in a personal fan
One of the best investments you'll make this year…we promise! Having your own personal fan enables you to have a constant fresh breeze without having to share with other employees and all cramp into one corner where there's air con in the office. Luckily, there is a huge range of fans available at great prices including personal clip-on fans and desktop fans; both which are ideal for the office and for travelling.
To get yourself and the office ready for those long, hot summer days ahead, if you have an account why not head over to the Quills website where we have a huge supply of fans including office fans, personal clip-on fans, floor standing fans, air con units and much more. We also have great prices available and bulk offer discounts. Simply click here to find out more or get in touch today to see where you can start saving!
https://www.quillsuk.co.uk/wp-content/uploads/2019/06/tips-for-staying-cool-in-the-office-image.png
600
1059
Quills UK
https://www.quillsuk.co.uk/wp-content/uploads/2022/01/White-Reverse-350.png
Quills UK
2019-06-05 11:24:40
2019-06-05 11:33:20
Top tips for staying cool in the office