5 Ways To Prepare Your Office For GDPR (Infographic)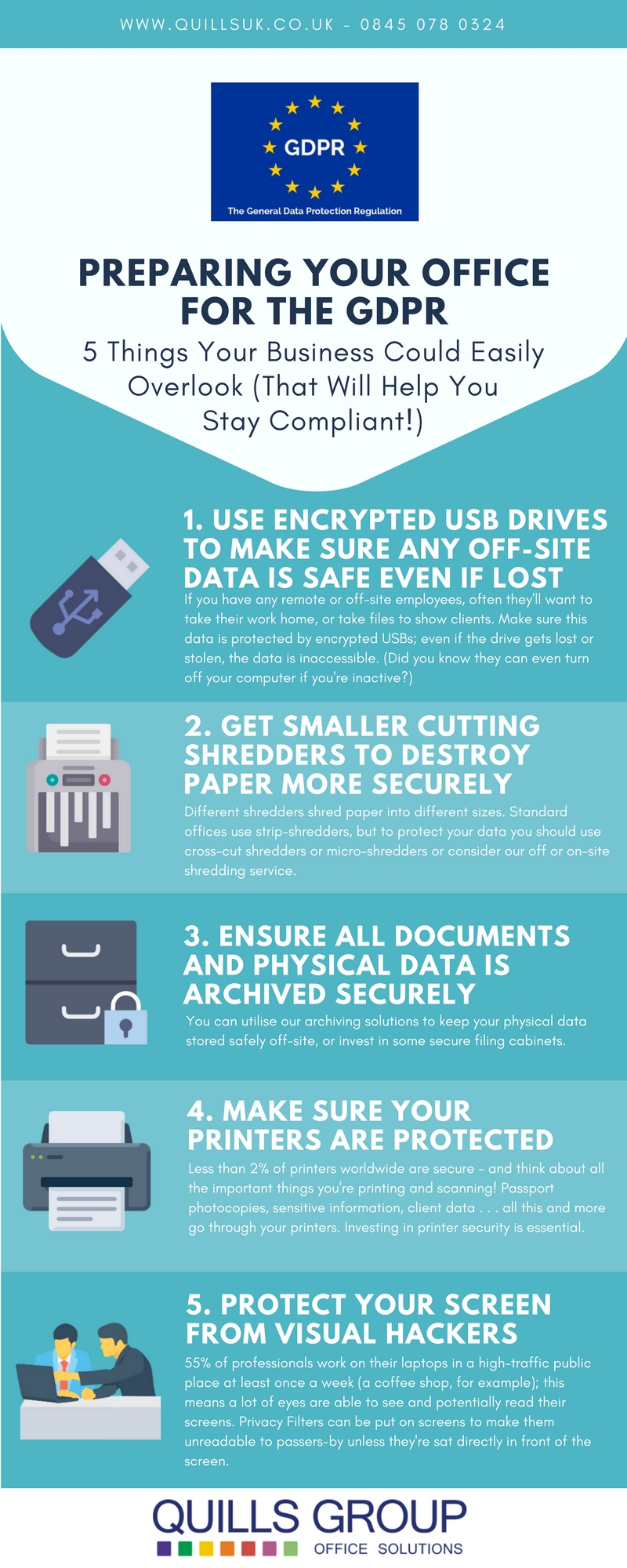 As of May 25th, the GDPR is now in full effect. However, this doesn't mean you should stop with all of your GDPR preparations; if anything, it means you need to be triple checking that they're firmly in place.
When you're working in an office, there is usually a lot of data floating around – and a lot of potential data breaches. A lot of companies think that their GDPR compliance stops at re-opting in campaigns, but this couldn't be further from the truth. Today, we're going to share 5 ways to ensure your office is GDPR compliant.
1. Encrypted USBs
Data will, at times, need to leave the office. People may want to work remotely or files may need to be taken to show to clients. However, data shouldn't be taken off-site without protection.
Encrypted USBs ensure that all files are securely stored and password protected, meaning that they are inaccessible to the wrong eyes – even if you lose the USB.
We've written an entire post detailing the various features of encrypted USBs and their benefits here.
2. Shredders
Most offices will print some form of physical data throughout their opening hours . . . but where do these documents go when you don't need them anymore? To ensure the data is securely destroyed, you need to invest in shredding. There are solutions available where third parties can come and collect your documents and shred them on your behalf, or (if your office has the budget) you could invest in a secure shredder for your office.
If you'd like to read more about our shredding solutions, feel free to review our full shredding service list.
3. Archiving
Not all data can be destroyed – so you need to figure out a safe and secure way to store data you want to keep. Archiving can be the perfect solution.
Quills provide complete archiving solutions; see if we can help you.
4. Secure Printers
Did you know that printers are one of the office's most vulnerable openings for hackers? Think about how much confidential data can pass through printers (HR scanning things like passports, faxed documents, printed documents) – just waiting for someone to steal it.
Last year, a viral "prank" made the internet rounds when a hacker tapped into over 150,000 printers and printed ASCII art as a warning to highlight how vulnerable printers are.
While this hacker had good intentions, many won't.
We offer "Quills Secure Software"; a print solution that will help to keep your printers secure.
5. Privacy Screens
Have you ever considered visual hacking? It may sound like some sci-fi film tech, but it's actually happening right now, no tech involved. Visual hacking is just when people are able to look at your screen and read your data – and it happens more often than you'd think.
55% of professionals work in a high-traffic area at least once a week (coffee shop, hotel lounge, library, internet cafe, etc.) where their screens are visible to passers by.
Privacy screens make your screen unreadable to anyone sitting at an angle. You have clear vision of your screen, but anyone sitting next to you will have their sight obstructed.
We hope this brief post gave you some inspiration for ways to tighten your office's data security. If you're a customer of ours and are wondering what we can do for you, feel free to get in contact.
Call: 0845 078 0324   Email: sales@quillsuk.co.uk   Live chat: www.quillsuk.co.uk
https://www.quillsuk.co.uk/wp-content/uploads/2018/06/pubnub-gdpr-compliance.png
600
1380
Quills UK
https://www.quillsuk.co.uk/wp-content/uploads/2022/01/White-Reverse-350.png
Quills UK
2018-06-14 10:04:34
2018-06-22 16:08:58
5 Ways To Prepare Your Office For GDPR (Infographic)