How Using A Professional Shredding Service Can Benefit Your Business
Whether it's paper, clothing or unwanted goods, shredding is a must for securely protecting sensitive items and business data. Client confidentiality should be a top business priority within your organisation but how can it be carried out efficiently when you have so many other priorities to focus on? Take a look at our article below to find out how outsourcing your shredding requirements can help your business.
Save time and money
Why paid your skilled employees to stand there and shred for hours when they could be generating revenue for your business? Internal shredding routines are extremely time-consuming and have to be maintained on a daily or weekly basis. For example, shredding a single document can take several minutes and you have to be mindful of factors such as:
–    Straightening sheets of paper
–    Removing any paper clips or staples
–    Disposing of the shredded paper
–    Cleaning up any excess paper, paperclips or staples
Furthermore, you also have to take into consideration the cost of maintaining an internal shredding routine and often enough, this is a lot more expensive than outsourcing your shredding requirements. A small selection of managing your shredding in-house include:
–    Purchasing shredders
–    Buying disposal bags
–    Utility expenses
Sound familiar? Outsourcing your shredding can save an extensive amount of money for your business. Quills, can arrange a personalised audit of your office needs and provide a quotation which includes the frequency, number of bins and what you'll be shredding.  There are no installation charges and the bin hire and replacement bags are free too!
2. Reduce the legal risk
With legislation such as the General Data Protection Regulation (GDPR) and the Fair and Accurate Credit Transaction Act (FACTA) all in full swing, it's crucial that you keep client data confidential and safe during the disposal process.
Our secure shredding service is NAID AAA certified meaning that all destruction of your documents complies with the privacy protection policies outlined in the above legislation. In addition to this, we also provide a certificate of destruction so that you can be sure your data is safe in the right hands.
3. Maintain your businesses reputation
Reputation. One of the most important assets of a business. It's very simple for your businesses confidential documents to get in the wrong hands and just like that, a data breach can happen and cause extreme worry and distrust.
When using a professional shredding service, all paper, media and products are collected and destroyed safely and securely. Constant monitoring, full CCTV coverage and an official certification of destruction are provided after every collection which means you can relax and focus on the more important things in your company.
4. Consider mobile shredding Services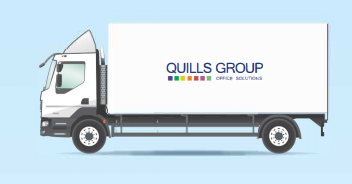 If you're considering outsourcing your shredding requirements but still have a concern about your information leaving the premises, then explore the possibility of using an on-site mobile shredding service. This ensures that all shredding is carried out on-site and gives you an opportunity to closely supervise what shredding is carried out and have absolute security.
Quills offer both on-site and off-site shredding service and can collect and shred data at your home or office. For more information, take a look at our secure data destruction brochure. 
5. Efficient recycling process
It's well known that recycling has a positive impact on our environment but be careful as time and time again shredded material is often stolen with the hope of gaining access to confidential data.
Outsourced shredding services ensure that your personal information is secure at all times. All shredded goods are still recycled but without comprising confidentiality as it takes place in a locked and private building with constant surveillance and security.
To find out how Quills Secure Shredding Service can benefit your business, get in touch today and request your free quote. Alternatively, take a look at our latest brochure for some more information on our data destruction service.
https://www.quillsuk.co.uk/wp-content/uploads/2019/02/Blog-image-for-Shredding-Quills.jpg
800
1600
Quills UK
https://www.quillsuk.co.uk/wp-content/uploads/2022/01/White-Reverse-350.png
Quills UK
2019-02-28 10:26:04
2019-03-01 16:16:49
How Using A Professional Shredding Service Can Benefit Your Business