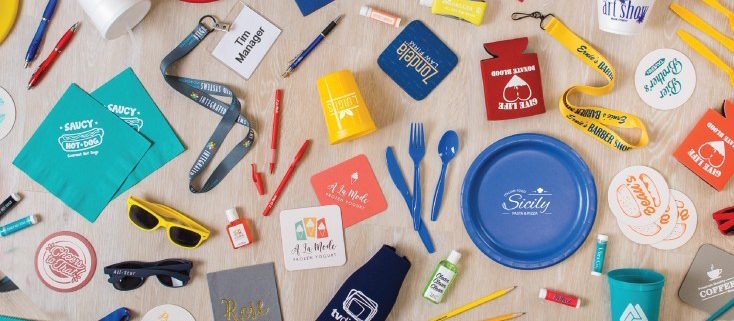 How to showcase and strengthen your brand reputation
We all know that a strong brand is a key factor to a successful business, so the million-dollar question is how do we achieve this? Promotional branded merchandise or corporate gifts as some of you may know them by is the perfect way to showcase your brand and be a reminder of your company to your potential customers.  Whether it's for a trade show, conference, training session, exhibition or sampling event, branded merchandise is the gift that keeps advertising for you and shouldn't be overlooked.
So many items, the choice is endless…
Your company logo can be added to pretty much any item that you want and include a key message. Pens, trolley keys, USBs, trophies, bags, umbrellas or something to eat like mints, chocolates or cakes; the options are endless so there's something to suit every organisation.
It's also great to see there's a huge range of Eco products available so that you can gift sustainably and responsibly.  Eco gifts can include pens made from recycled water bottles, pencils made from recycled CDs, Fair Trade cotton bags and drinks flasks made from plant fibres.
Check out our 5 reasons why using promotional items could be a great addition to your sales and marketing plan for 2019 and beyond…
Your customers will feel more appreciated
Everyone loves a freebie, right? Promotional gifts create a more personal experience with your brand giving you the ability to turn your customers into ambassadors. Ultimately, consumers will recognise and appreciate the effort you're making to stay in contact and will be more likely to shop with you in the long term. After all, 85% of consumers do business with a company after receiving a promotional product!
It's a cost-effective way of getting your brand out there
In terms of the customer 'reach', promotional merchandise is very cost-effective compared to other traditional methods such as TV or magazine advertisements. Recent research found that consumers hang on to promotional products for around 6.6 months and 63% of consumers pass along the promotional product to someone else when they no longer wish to keep it. Since your promotional product will be passed from one potential customer to the next, your brand exposure could, therefore, be more than doubled.
What's even better is that your promotional items will often have a much more active interaction with your customers. For example, instead of just looking at your branded advert on a piece of paper, they'll be writing with your branded pen on a daily basis or carrying around their goods with your branded rucksack which brings a new meaning to advertising on the go!
Stand out from the crowd
This is your brand and your promotional merchandise. You have free reign to be as creative and colourful as you want. Add some personality to your promotional items and get your brand out there. Consumers will admire your bravery and will be much more likely to look at something unique and bold than boring and corporate. Following the legendary fidget spinner craze, organisations including the NCAA, NFL and NHL all have branded versions of the product. Always lookout for the newest crazes that you can put your name on and promote. We'd even suggest having a range of promotional products branded up towards specific markets and occasions.
Use promotional products to generate leads
You can do a lot more with promotional products than just using them in a giveaway competition on social media! Incorporate them into your business strategy and the ROI on these items can be easy. For example, ensure your sales team have a healthy range of promotional products (even just pens) on them at all times so that they can give them away to a potential customer at any point. This is especially useful in sales pitches or at networking opportunities.
Eco-friendly promotional gifts are a talking point
Many of us are taking the next step over to the greener side and trying to do our bit for the environment. By investing in recyclable and eco-friendly promotional gifts you're not only helping the environment but proving to customers that you're trying to make a difference. But don't worry, just because you're going green doesn't mean your product choice is limited. For example, our range includes pens made from recycled water bottles or recycled CD cases, pencils made from recycled dollar notes, cotton and jute bags, drinks flasks made from sugar cane and much more. Cool right? You can find a link to the entire eco brochure below…
With so many different options available, what should you put your name on?
According to the British Promotional Merchandise Association (BPMA), the most popular branded item currently being ordered by UK Marketing Managers is the Promotional Bag and Printed Pens. Other frequently ordered items include keyrings, USB sticks, awards and stress items.
Although the above gives a good indication of what may be worth investing in, remember that every audience is different and there are limitless options so be sure to get a wide variety of products to ensure that you're covered.
Are you ready to get your promotional products?
Quills can get all your promotional items created and ordered in just a few simple steps. Simply head over to our promotional website here or take a look at the catalogue for the full range.
Ordering sustainable eco-products…
To see the full eco-range available, take a look at our brochure here.
Our team are happy to help at print@quillsuk.co.uk if you have any enquiries.
https://www.quillsuk.co.uk/wp-content/uploads/2019/08/promo-gifts-blog-image-2.jpg
416
734
Quills UK
https://www.quillsuk.co.uk/wp-content/uploads/2022/01/White-Reverse-350.png
Quills UK
2019-08-30 11:30:21
2019-08-30 11:34:48
How to showcase and strengthen your brand reputation