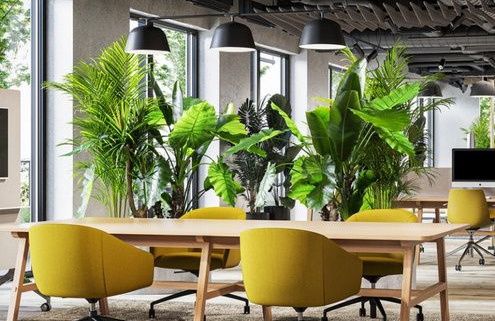 A guide to buying office furniture
Buying office furniture is trickier than you'd think. It has to appeal to a large number of people, at the same time as being functional, ergonomic and comfortable, which means the buying process is not always a straightforward one.
This article explains everything you'll need to know to ensure your office reflects your brand, is a motivating environment for your staff to work in, and will also impress clients and visitors.
Modern office furniture
These days there is a lot more to office furniture than just desks, chairs and filing cabinets. In fact, technology has enabled the majority of offices to get rid of filing cabinets altogether! Modern office furniture is innovative, has been designed around the different needs of today's businesses and offers a huge range of possibilities for the way we work. For example, sit-stand desks have been developed to help our health and wellbeing, acoustic booths and meeting pods give us more privacy if we need to work quietly or have a one-to-one with a colleague, breakout furniture gives us somewhere to go and relax during our breaks, and glass partitions can create stylish meeting spaces without reducing the amount of natural light in the rest of the office.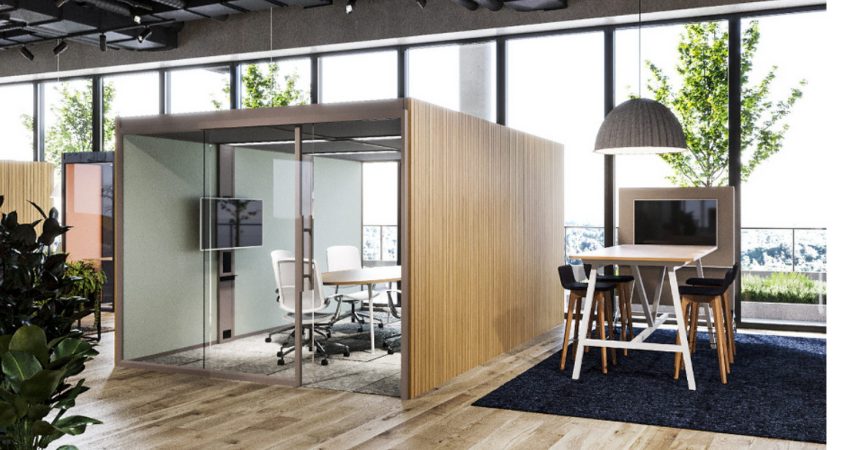 Space planning and creating zones
The way you use your office space may need to change in order to reflect the post-lockdown move to hybrid and remote working. Begin by considering the different kinds of spaces or 'zones' you need, such as breakout areas, meeting rooms or meeting pods, or areas where staff can work quietly. When considering these areas, make sure you also take into account ease of access to communication for your telecoms, internet and charging points. This can also be built into some meeting room tables within hidden AV panels.
You must also take general office facilities into account, such as ventilation, printing, recycling, kitchen and refreshment facilities.
It is really important to take your time and pay attention to detail when planning your space. It will be a good idea to invest in the services of an interior design specialist who can draw up detailed CAD plans for designs and layouts that suit the needs of your business within your available budget. So decide what furniture you will need and then seek the advice of a space planning expert to ensure you can fit the desired items into the space available before purchasing anything! Many items are built to order and can't always be returned, especially when they have been made in your chosen fabric and colour which might not be a standard finish… so ask about this too.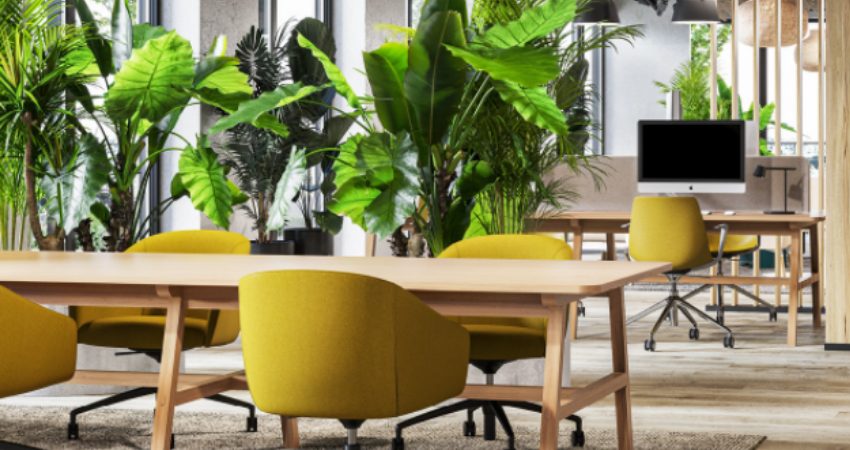 What are the longer-term plans of your business?
When planning your office refit, you need to take your business plan into account and allow for growth. By understanding your future staffing needs, you can make sure there's adequate space and furniture provision for them now. This will help you minimise the expense and business interruption and ensure all your items match.
Create a clutter-free office
Storage is a hugely important part of planning your office refit, especially if space is limited. Begin by working out how much storage you'll need and what type. You can free up a lot of space by using archive solutions that store physical documentation off-site, allowing you to make your office clutter free and a more attractive environment to work in. Alternatively, create digital archives so your company can be truly paperless.
For other storage needs such as wall storage, cabinets, cupboards, bookcases and personal lockers, there is a wide range of attractive and clever office furniture solutions that will enhance the look and feel of your work space, at the same time as helping you keep it tidy and clutter free.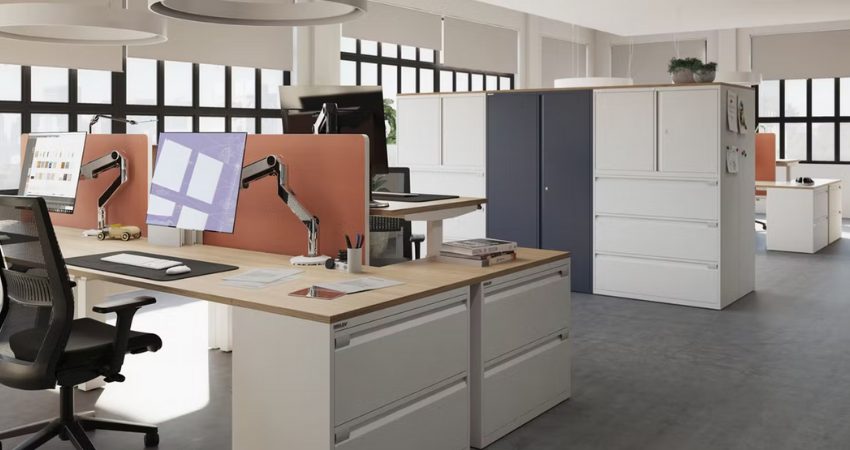 Consider COVID-safe working
Unfortunately, COVID-19 doesn't seem to be going anywhere fast so we'll always have to take it into consideration. Taking steps to ensure your office premises are as COVID needs to be part of your office refit planning.
It's a given that ventilation and sanitising stations need to be incorporated into your design plans, including testing areas if necessary, as well as facilities that allow your visitors, staff and cleaners to safely dispose of any hygiene waste. There are additional facilities that you can add to increase on-site safety, such as air purifiers, protective screens and antimicrobial surface protection which protects surfaces 24/7 for 12 months.
Office colour scheme
Office furniture doesn't have to be boring and comes in many different colours, including bright colours and pastels. This means you can make your space look more cheerful as well as match it with your company's brand colours, whether you want to project a professional, traditional, fun or creative tone. So, when it comes to meeting booths, storage units, chairs and desks, remember they come in a variety of colours, but these can also include traditional white, grey and black as well as wood finishes such as beech, oak and walnut.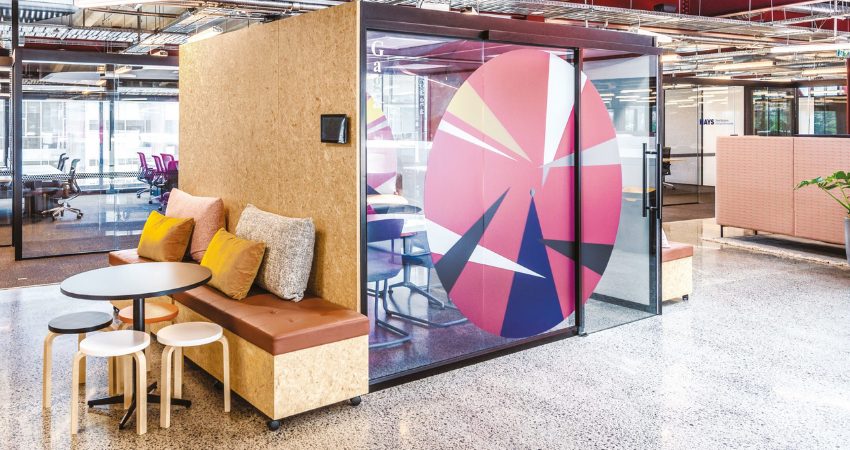 Recycle or donate?
If your old office furniture still has some life in it, don't just throw it away – we could help you find a new home for it. It may be that you could donate your old office furniture to your local authority or a local school, depending on the quantity and condition of it. Alternatively, if your office furniture has seen better days, we can help you recycle it so it can be put to good use as something new, rather than it heading to landfill. It's the right thing to do, and it'll also help your company's sustainability targets.
Installation
It may seem an obvious point to make, but if any decorating has to be done, wait until the painters have finished and are off-site before you install your new office furniture!
Assembled or flat-packed?
Assembled office furniture is the easiest and least disruptive option, but before you order it, make sure it will fit through your doors and can be manoeuvred through your site to its designated area. If this is going to be logistically challenging, then flat-packed furniture may be the better option. We have a team available to build and install your furniture, so do click for a quote or ask your Interiors Consultant.
Guarantees
All office furniture comes with a minimum guarantee of at least one year. However, some providers will guarantee some of their furniture for five or even ten years, so always find out how long any furniture you're interested in is guaranteed for – it might help you decide between one range and another.
Contact us to discuss your office furniture, design and installation needs for your next project.
https://www.quillsuk.co.uk/wp-content/uploads/2022/05/A-guide-to-buying-office-furniture.jpg
400
495
Justine Perry
https://www.quillsuk.co.uk/wp-content/uploads/2022/01/White-Reverse-350.png
Justine Perry
2022-05-03 16:29:14
2022-09-08 10:15:57
A guide to buying office furniture