Understanding eco symbols
This mobius loop logo indicates that an element of the material contained within the product is recycled. We display the percentage of recycled material within the logo where it is 60 percent or higher.

The Eco Friendly logo is a non-accredited logo that is used within this catalogue to identify products which are less harmful to the world's resources and comply with one or more of the following standards; Nordic Swan, Blue Angel and EU Eco-Label (see below).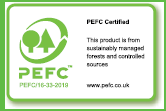 Our catalogue is printed on 51gsm Galerie Lite produced in Finland.  It is Elemental Chlorine Free (ECF).  We are working to ensure that all of the paper we use is ECF or is sourced from well managed forests.
Catalogue pages can be recycled for use in newspapers and packaging – please dispose of these responsibly through your recycling provider. The paper is also biodegradable as compost or can be incinerated to produce energy.


Nordic Swan is a Scandinavian standard that demonstrates a product is a good environmental choice. To achieve Nordic Swan a product must undertake independent analysis and fulfil multiple environmental attributes for the product life cycle. For further details please visit www.nordic-ecolabel.org

The Fairtrade mark is an important step towards a fairer deal for producers in developing countries. The Fairtrade Mark guarantees producers a price that covers production, allows for investment in the community and creates a more sustainable way of life. For further details please visit www.fairtrade.co.uk

Blue Angel is a German certification for products that guarantees a product or service meets high standards when it comes to its environmental, health and performance characteristics. For further details please visit www.blauer-engel.de/en
Rainforest Alliance Certification is awarded for ecological management. Goods and services must be produced without negatively impacting on the environment or local community. For further details please visit www.rainforest-alliance.org
The Eco-Label flower was designed to identify products which are less harmful to the environment than equivalent brands. The label is part of a broader strategy aimed at promoting sustainable consumption and production. For further details please visit
ec.europa.eu/environment/ecolabel