Corporate branding taken to the next level with Living Logos
At Quills, we are excited to provide the innovative "living logos" to breathe new life into your corporate branding. Available in a variety of colours and fully custom to fit your business, our living logos are brand-specific signs with real plants, suitable for any modern office space.
What Is A "Living Logo"?
Living Logos are signs that are made of real plants. They can be used for fun corporate branding purposes, creative signage and decoration.
These are fully custom made for the buyer, so there are limitless creative options.
Are The Plants In The Logo Alive?
While adding plants to your office can enhance the workplace environment, their maintenance can be inconvenient. Having plants inside a sign sounds like it could be difficult to maintain; fortunately, this could not be further from the truth.
A glycerin based fluid that stops any further growth and need the plants have for attention replaces the sap of the plants in the logo. This means that the moss will retain its natural features, but will not grow.
Aftercare & Maintenance
As mentioned above, the plants are no longer growing and so the logo needs no aftercare or maintenance. The conditions of your office don't matter; the living logo doesn't require light, water or soil. Once the sign has been set up, no aftercare is necessary.
New Features For Further Customisation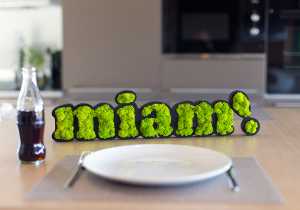 While the living logos have always been customisable in terms of text, font and symbols, the living logos are now available for even more customised options. We're excited to share these new features with our customers to see what unique signs they will create!